Luma Dry Aging Company – aged meat
Luma D.A.C. is the brainchild of long-time friends Lucas Oechslin and Marco Tessaro. These young entrepreneurs age fresh meat using a special mould culture to create products of the very highest quality. The mould culture makes beef, veal and pork incredibly tender and flavourful and gives the meat the nutty aroma that only Luma products have.
The company combines traditional methods with the latest biotechnology. For example, Oechslin and Tessaro insist on the time-honoured method of dry hanging meat on the bone. The special mould culture the company has developed then grows while the meat ages. You can find out more about this under Process.
In just a few short years, their passion for meat has become an emblem of high-quality food. Luma's loyal customers include leading chefs like Marcus Lindner, Stefan Lünse and Stefan Heilemann.
Luma Dry Aging
Luma gets its meat from selected slaughterhouses. We choose the cuts of meat on-site, based on breed, age, type of feed and how the animals are raised, as well as on conformation and marbling of the meat. Just three percent of the animals meet Luma's high standards. The cuts of meat we select are transported on the bone to our production facility in Neuhausen, where we cut them to size and spread the mould culture that we have cultivated across the surface of the meat.
Luma found the mould culture in nature, but in order to use it in the food industry it has to be inspected and grown under extremely strict conditions to guarantee that it remains in its purest form.
Once they are unpacked, we place the cuts of meat – still on the bone – in our cooler, where the perfect temperature and humidity play a key role in the success of the maturation process. In the cooler, the mould culture grows evenly throughout the meat. The cuts of meat are kept in the cooler between four and eight weeks, depending on their size and consistency. During this time, the mould culture forms a white coating – the fruiting body – on the surface of the meat. The enzyme of the mould culture changes the taste of the meat and reduces mortis and collagen, which make the meat tough. The mould culture also acts as a sort of regulator in the meat, preventing the spread of undesirable microorganisms.
After it's aged, the bone-in meat then lands on the butcher's table. The butcher cuts the meat from the bone and removes the visible white fruiting mould culture bodies. The pieces now look like conventional cuts of meat. These pieces are then cut into the desired sizes and vacuum packed and are then made available for purchase.
The cuts lose around 50 percent of their weight through the removal of the white mould culture fruiting body and the bone and because of water loss during storage. Luma uses the pieces of meat left over from creating the larger cuts to produce high-quality hamburgers.
International patent research has shown that Luma has the claim to a worldwide patent on both its process and the mould culture.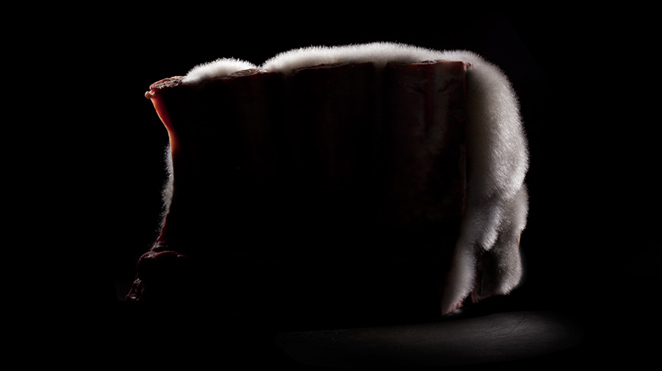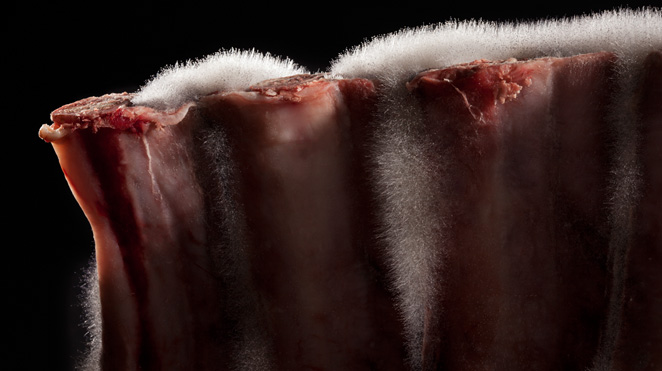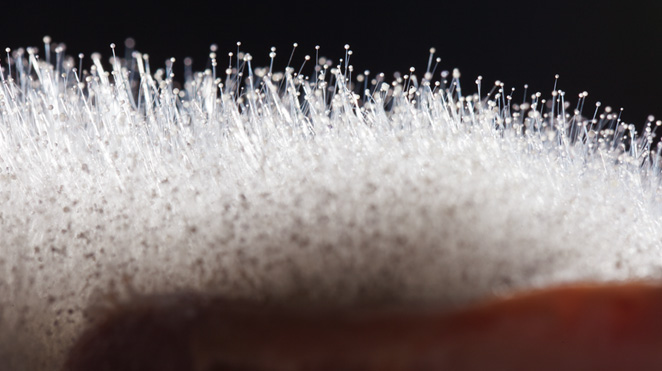 The LUMA D.A.C. Team
Lucas Oechslin is from Löhningen near Schaffhausen. He is a trained polytechnician and biotechnologist. Founder as well as developer of LUMA D.A.C. Fan of the mountains and enjoys snowboarding in deep snow with Marco.
Marco Tessaro hails from Schaffhausen. He was trained as a polytechnician and studied Tourism and Gastronomy Management. Founder and strategist of LUMA D.A.C. Likes to drive to distant beaches to ride the waves with Lucas.
Tim Kantermann is a trained butcher and originally from Mainz. Has LUMA D.A.C. production completely under control while also ensuring that shop customers are satisfied. An avid car enthusiast, Tim loves to travel.
Florian Jirat is Luma's sales talent. With his courteous manner and excellent knowledge of French, he can convince not only Swiss-German clients but also gastronomers from French-speaking Switzerland of the high quality of our meat. In his free time, he likes to speed around curves on his classic bike and cook elaborate meals for his loved ones, friends, and family with a lot of passion.
Manuel Kälin studied Biotechnology. He is both deputy CEO and operations manager, assuming responsibility for quality assurance, among other things. However, Manuel has many more hidden talents: Aside from marketing, administration, and other tasks, he brings invaluable support in many other areas.
Francesco Santangelo is a young, highly motivated butcher. He has gained experience in a variety of businesses and areas. Furthermore, he spent a longer period of time working in Italy, as well as in larger butcheries, which is very helpful for us.
Severin von Ow was trained as a design engineer. However, he expanded his horizon over the years through plenty of travelling and collected experience in a wide range of jobs. With his all-around skills, he supports both of our butchers in production and ensures that shipping and warehouse management run smoothly. As a long-time skateboarder, he can still teach both of the bosses a few tricks on the company's own mini-ramp. A real stroke of luck for our company.
Susanne Walter started out in the hotel and gastronomy industry. With a thirst for action, she supports us in marketing and administration. Her loved ones, fine dining, and excellent wine form the perfect combination for her for unforgettable moments as well as offering pure inspiration.
Florian Wenger is from Schaffhausen. He has a background in chemical and pharmaceutical technology and has gained experience in a number of large companies. Florian supports our production team with general work that arises and with warehouse management. Additionally, he is in charge of preparing orders, including packaging and shipping the delicacies. He likes to spend his free time on the Rhine in the summer and on his snowboard in the mountains in the winter.